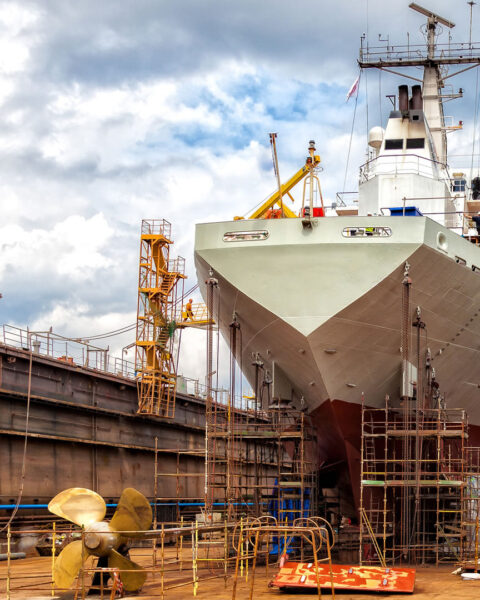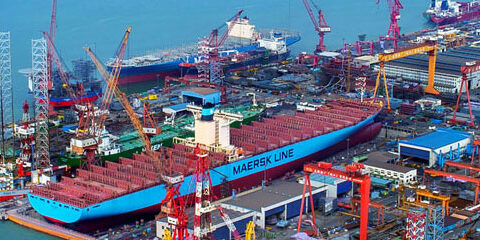 Shipbuilding, Design & Construction Agents
We are the sole UK agents of the world-renowned Drydocks World Group and PaxOcean Group.
As a worldwide shipbuilding and repair agency, we manage a plethora of marine services for our clients including shipbuilding, design and construction at some of the best shipyards in the world. We can connect you with international marine specialists who provide high quality new-build construction and repairs of ships resulting in strong and long lasting relationships with our clients. As a result, Calvey Marine are proud to represent some of the world's leading drydocks and shipyards including:
Drydocks World Group
One of the main shipyards we're affiliated with, Drydocks World-Dubai is ISO certified, has a floating dock with a capacity of 16,000 tonnes, an aluminium workboat, a 2000 tonnes floating crane and a line-handling tug; making it the ideal yard for international ships and major projects. Once vessels are ready for delivery, they safely leave via a unique Hydrolift dock.
Pax Ocean
At the Pax Ocean Offshore drydocks in Zhuhai, world-class facilities combine with a layout designed to maximise efficiency and aid the skills of shipbuilders. Core services and facilities include working on dive support vessels, LPG tankers and chemical tankers, blasting painting systems, a plate forming shop and block assembly shops.
Consultation, Design
& Construction
Operating in some of the most advanced shipyards in the world for safety and equipment, we can help in the negotiation and planning stage, ensuring that the building is to your exact specification; whether you're in the oil, gas or shipping industries.
After the design is completed by naval architects, marine engineers and draftsmen, the construction begins. We're proud to put you in touch with the skills of expert ship building teams around the world with unrivalled experience in marine offshore services.
The process of new builds is as follows:
Design and development from concept
Shipyard appraisal and contractual review
Approval of design plan with manufacturers
Building and delivery
Calvey Marine
Unbeatable Project
Management
With years of experience as agents in shipbuilding and repairs, we rigorously ensure every element of your project is completed to a high standard and meets all safety protocols. As we offer a specialist and world-famous service, previous clients range from independent ship owners to large international companies.
At Calvey Marine, we tailor services to our customers; you'll be kept updated regularly on the status whilst we maintain close contact with the shipyards who are provided with technical solutions for their new build. The end result is always an advanced vessel of premium quality that has a strong earning power.
To use our professional services as agents for shipyards, call our team on 01903 748860.