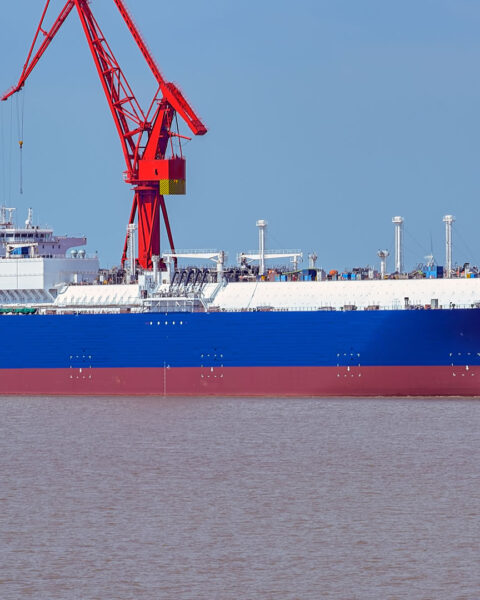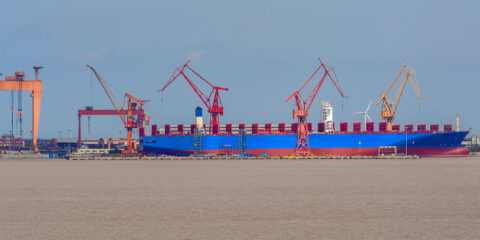 COSCO
Shanghai China

COSCO – Shanghai China
Calvey Marine has worked with this network of yards for many years and our management team regularly visit China to ensure they can recommend the best yard for each particular project.
CHI have 9 subsidiary shipyards and now are the leading group in China's shipbuilding industry with a total annual production capacity of 7,500,000 dwt. CHI have so far delivered more than 820 vessels of varying types and have the capacity to build 12 offshore marine products and 20 offshore modules yearly. So far, they have delivered more than 50 EPC projects ranging from inshore to offshore, many of which are the first of their kind in the domestic industry. The CHI group also boasts its Premium FPSO conversion factory, having a potential annual capacity for ship repair and conversion volume of 1500.
With a global customer service network with clients from around 100 countries, CHI set up their commercial headquarters in Shanghai and representative offices in Hong Kong, China, USA, Singapore and Greece. CHI is also a well-known offshore oil service provider and the referred business partner of the world's leading shipping companies. With a win-win mentality, CHI aims to focus on environmental protection and green development, perform social responsibility and create more value to the society.
CHI (Shanghai) is mainly engaged in ship repair, conversion, new building, steel work and offshore projects. CHI Shanghai is located at China's largest manufacturing base for marine and offshore equipment at the estuary of Yangtze River, Changxing Island, and sits adjacent to the Waigaoqiao container terminals, RORO terminals and Zhanghuabang terminals. Our Principals here will provide customers with high-quality products and services of international standards.
China Shipping Industry Lixin Shipyard is located in the Shanghai gold waterway, along the Huangpu River, meaning that the yard's geographical position is very advantageous. In addition to routine repair work, Lixin Shipyard also specialises in: hatch cover manufacturing, the repair of propellers, boilers, turbocharger, crankshaft, and the stern shaft seal bonding process.
CHI Guangdong offers advanced techniques of ship repair and conversion. The yard also benefits from a large capacity of steel structure design and production, ensuring CHI is able to undertake the prefabrication and assembly of pipelines.
COSCO SHIPPING HEAVY INDUSTRY GROUP
CHI (Shanghai) No. 666, Fengfu Road,Changxing Island,Shanghai,China
CHI (Dalian) No 80,Zhongyuan Road,Gan Jing Zi District,Dalian,Liaoning province
CHI (Yangzhou) No.1, Yingzhou Road, Jiangdu Development Zone, Yangzhou, Jiangsu, China
COSCO Shipping (Nantong) 2 Changchun Rd, Haimen, Nantong, Jiangsu, China
CHI Offshore (Qidong) Zhong Yuan Lu, Qidong Shi, Nantong Shi, China
CHI (Zhoushan) Putuo District, Zhoushan, China
CHI (Guangdong) Dasheng Industrial Park.Machong.Dongguan,China
Facilities:
Docks & Repair
Berth Sizes:
Numerous drydocks, floating docks and workshops, Please see attached brochure for specific facilities at each location.
For more information: www.coscoshipping.com