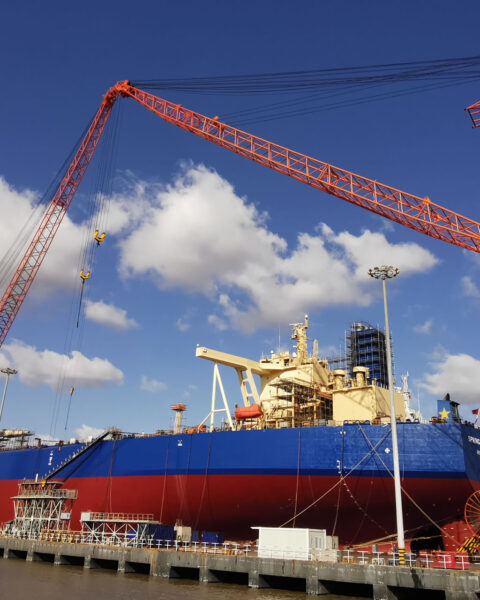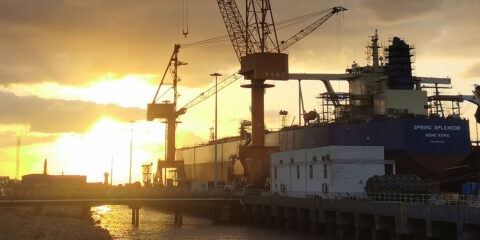 Yiu Lian Shekou
Mazhou Island, Guangdong

Yiu Lian Shekou – Mazhou Island, Guangdong
Yiu Lian Shekou is the biggest ship repair yard in China. Yiu Lian Dockyards (Shekou) Limited, founded in 1989, is a wholly-owned subsidiary of the impressive China Merchants Industry Holdings Co., Ltd group.
A ship and offshore repair yard, Yiu Lian Shekou also offers complete repair services for oil rigs and other offshore structures and has extensive experience in steel work, coating and painting, machinery maintenance, oil tank conversion and offshore repairs and conversions. This yard, with its wide experience and high-quality teamwork, has successfully completed repairs of a wide variety of vessels and rigs and is popular with our UK clients. The yard covers a total area of 700,000m2 in the Pearl River delta, the company operates along the coastline of 3,400m berths plus two VLCC dry docks with capacities of 300,000 dwt and over 300,000 dwt respectively, and has two original floating docks which can handle vessels of 70,000 dwt and 30,000 dwt respectively.
Yiu Lian also operates a yard in Zhoushan which is equipped with brand new facilities and experienced workforces optimal for all types of ship repair works, ship conversion and Offshore projects with excellent quality and competitive prices, and a sister yard in Hong Kong which is proudly one of the most popular ship repairers in the Far East, Yiu Lian Dockyards Hong Kong. This yard operates three floating docks with a huge capacity for vessels of all sizes, and benefits from technical expertise and exceptional offshore marine services.
Facilities:
Docks & Repair
Berth Sizes:
Dock 1 (graving dock) 400m x 83m
Dock 2 (graving dock) 360m x 67m
Dock 3 (floating dock) 240m x 36m
Dock 4 (floating dock) 190m x 27m
For more information: No website available