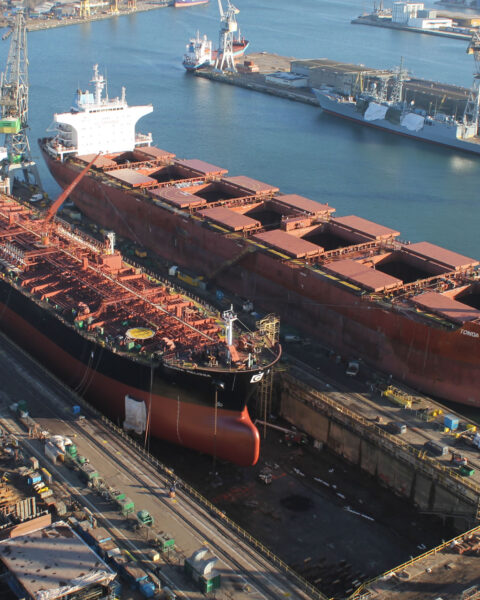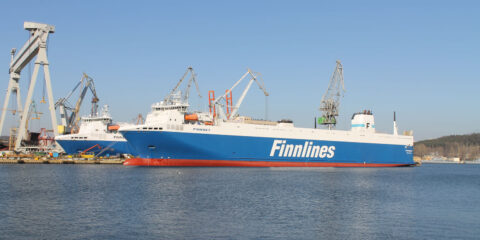 Nauta shipyard
Poland

Nauta shipyard – Poland
Nauta Shipyard occupies a huge area of roughly 19.7 hectares and is capable of carrying out advanced ship repairs and conversions. The yard's work is certified with Quality System ISO and is approved by ABS Quality Evaluation. Thanks to their technical potential, high quality, experience and knowledge of personnel, modern technologies and newly acquired production facility, Nauta have become one of the biggest and most competitive ship repair yards in the Baltic region. The yard's ship repair offers competitiveness and efficiency not only in terms of quality, but also in terms of service prices and delivery times. The expanded production facility, with its excellent location, makes it an ideal place for the ship repairs of large and very large vessels.
Nauta Ship repair Yard has carried out complicated conversions and lengthening/shortening projects irrespective of the line of the cut. Up to now over 100 of such technically most sophisticated operations have been performed. Among others, they include conversion of container vessels into car carriers, conversion of deep water tugboats and fishing trawlers into offshore vessels.
Apart from the civilian production, Nauta Ship repair Yard provides services in the area of repair, modifications and building of the naval vessels for the Polish and foreign navies, including, but not limited to the works on board submarines. Having obtained all necessary certificates the total level of the services for the Polish navy has been constantly growing. The gained experience in repairs of naval vessels, low labour costs and certified quality makes the yard and ideal place for repairs of naval vessels for other NATO countries.
In addition, during over 95 years of activity Nauta Ship repair Yard has designed and built over 500 vessels. The yard have produced in particular special purpose vessels such as:
Offshore and research vessels
Fire fighting and rescue vessels
Tugboats, barges
Ice – breakers, dredgers
Fishing trawlers
In addition to complete fabrication of vessels, the yard also supports production of:
steel hulls, steel hull blocks, superstructures and other ship constructions
aluminium hulls, superstructures and other constructions
Facilities:
Docks & Repair
Berth Sizes:
Dry dock 1 – 240m x 40m
B1 – 280m x 36m
B2 – 177m x 28.7m
Floating Dock 4 – 190m x 31.2m
Floating Dock 3 – 135m x 21m
Floating Dock 2 – 112m x 18m
Pneumatic elevator – 60m x 12.4m
For more information: www.nauta.pl