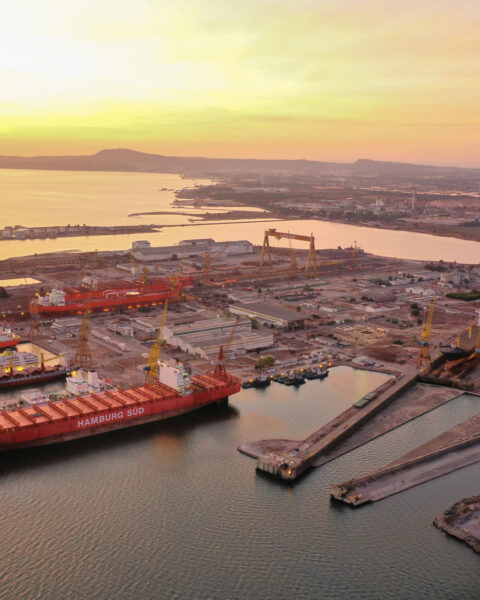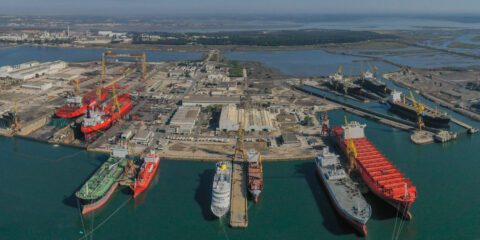 Lisnave shipyard
Portugal

Lisnave shipyard – Portugal
Lisnave Shipyard offers premium services in an optimal location in Setubal, Portugal. The dedicated and passionate teams working there provide everything from full conversions to ship maintenance, whether scheduled or emergency repair. Covering an area of 1,5000,000 m.sq, it's scale is hugely impressive and Calvey Marine are proud to operate as Lisnave's sole UK Agent after many years of successful cooperation. The Yard is fully equipped with all of the necessary workshops, services and facilities to carry out the wide range of tasks required of a ship repairer, and has ample lifting capacity, staging, equipment and all required utilities for docking a vessel. Since its inception Lisnave's strength has been the focus on the relationship with its customers. Working on longstanding business relations reliant on a quality service to the fleet. A service provided by a well skilled and trained workforce with a continuous focus on the delivery of the complete range of quality services on-time and to the satisfaction of the customer.
Lisnave's diversity of dock sizes (three panamax hydrolift docks and three large size docks up to VLCC) allows flexibility in solutions to accommodate simultaneously several units both large and small. The Mitrena Ship Repair Yard remains an important hub of shiprepair technical know-how with a large number of specialist skilled technicians serving Owners with timely, safe and reliable dockings. Known for its large tanker repair capabilities, Lisnave has, from the start of the company, been repairing the world's largest tankers (Suezmax to ULCC). Market dynamics has led over the years to a diversification of types and sizes of ships repaired today at Lisnave's Mitrena Shipyard. The repair and docking projects range from small to large tankers, bulkers and container carriers. Many sophisticated dredging, cruise and offshore units call at Lisnave to carry out maintenance and repair dockings.
Lisnave is run by an exceptionally friendly, hardworking and committed team and Calvey Marine have worked with them for over twenty years.
Facilities:
Docks & Repair
Berth Sizes:
Dock 20 – 420m x 75m
Dock 21 – 450m x 75m
Dock 22 – 350m x 55m
Dock 31 – 280m x 39m
Dock 32 – 280m x 39m
Dock 33 – 280m x 39m
For more information: https://www.lisnave.pt