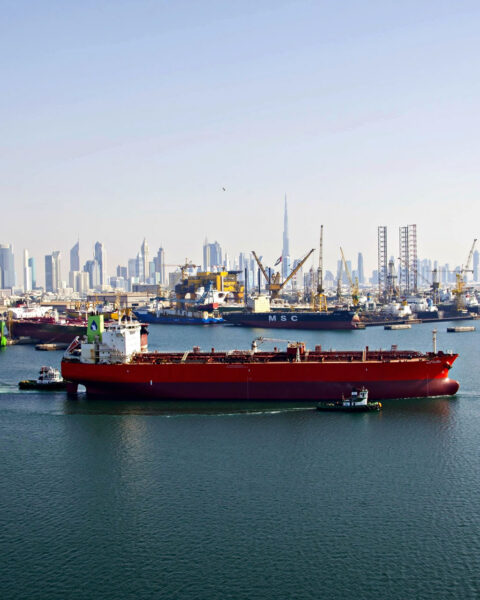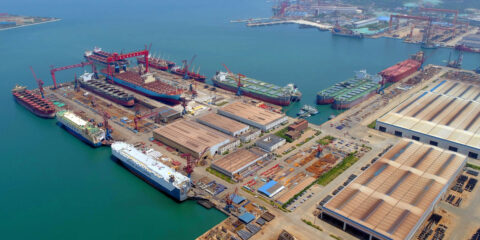 Drydocks World
Dubai

Drydocks World – Dubai
Calvey Marine are proud to be the exclusive UK agents of Drydocks World Dubai; the largest shipyard in the Middle East and the flagship company of Dubai World. Hugely prominent in the maritime industry, the shipyard is ideally located on a busy trade route and operates with a culture of excellence and unbeatable customer service.
Within the maritime industry, Drydocks World Dubai innovates and works hard to complete every aspect of every project perfectly. Over the past 36 years Drydocks World-Dubai has become a leading provider of marine and offshore services to the shipping, oil, gas and energy sectors.
Drydocks World completes over 300 projects a year, with a record of handling 42 refurbishment projects simultaneously. The yard is spread over 200 hectares, 4 dry docks, with the largest dock capable of handling the world's largest ship, and over 3,700m of berth space. Innovative projects have been constructed in Drydocks World, breaking records for some of the largest new build offshore fabrication projects worldwide
The yard has received numerous awards and accolades including the British Safety Council's prestigious "5 Star" rating for the past 14 years and the "Sword of Honor" on 11 occasions. Drydocks World aims to consistently deliver excellence and to achieve further success for the UAE's maritime industry, positioning Drydocks World as an international yard of choice. Reasons for their established and growing reputation;
In-house workforce with over 50 nationalities
In-house and locally based 3,000+ subcontractor manpower to supplement the yards own workforce as required
3 ULCC docks and 1 floating dock provide greater flexibility to accommodate and deliver projects on schedule
Over 3,700m of berth space accommodating vessels up to 10m draft
Fully climate controlled workshop to fabricate exotic pipe materials
Dedicated cryogenic workshop to handle LNG vessel equipment overhauling
Environmentally friendly Chariot Robotics machines for hull blasting simultaneously with other dock work
Fully equipped modernized workshops and extensive fabrication areas
Highly skilled manpower, equipment and excellent year round weather conditions to carry out surface preparation and coating work on hull and tanks, achieving highest possible quality standards
Specialised project management team comprised of marine engineers, naval architects & ex-classification society surveyors who have the expertise and training to deliver projects on time
In-house engineering capabilities to undertake any vessel modification requirements in repair projects
In-house developed and customised ERP system (Mariner) for efficient project management on vessel repairs
Readily available original equipment manufacturers & authorized service centres located within the yard and locally: MAN Diesel, ABB Turbochargers, Wartsila, & Alfa Laval
Global Offshore Services is available at short notice to take up assignments at any location outside the yard and offshore
Availability of yards own 2,000tonne floating crane for any heavy lift requirements
Customs & Immigration offices located within the yards premises
Stock of triple certified materials: 20,000 tonnes of steel and 19,000line items
Drydocks World Dubai is a first-class shipyard and the management team is always pleased to receive UK clients and show them their facilities and the services they can provide.
Facilities:
Docks & Repair
Berth Sizes:
Graving dock No.1 – 366m x 66m x 12m
Graving dock No.2 – 521m x 100m x 12m
Graving dock No.3 – 411m x 80m x 12m
Floating Dock No.4 – 205m x 32m x 7m
For more information: www.drydocks.gov.ae/en