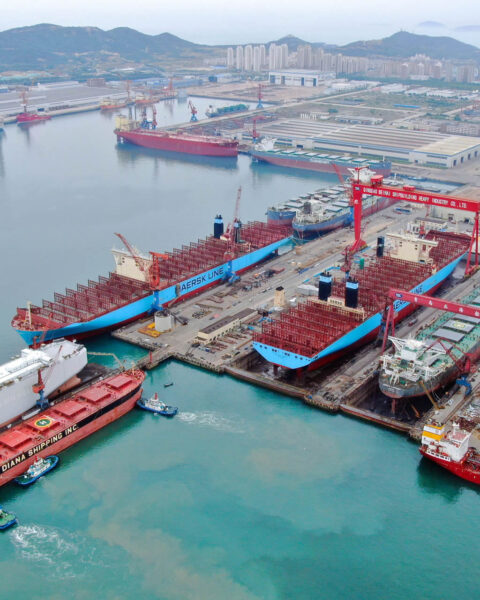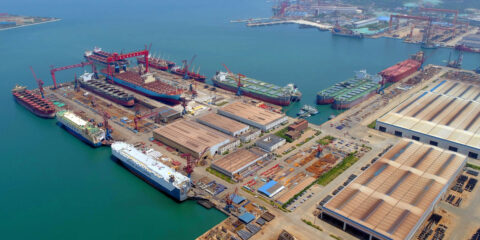 Beihai Shipyard
China north

Beihai Shipyard – China north
Beihai Heavy Industry is now one of the largest ship repair yards owned by the China Shipbuilding Industry Corporation (CSTC) and specialises in ship repair, ship builds and full conversions. With advanced technology management, offshore capabilities and a floating dock for repairs, the teams put their customers first to ensure total Client satisfaction when using the services at Qingdao.
Qingdao Beihai Shipbuilding Heavy Industry Co., Ltd. (BSIC), was first established in 1898 and moved to Haixiwan of Qingdao Economic and Technical Development Zone in 2004. The new ship-repair sector and the sectors of GRP boats & davits manufacture had been built and were set into production in 2004, and the shipbuilding sector began production in the end of 2008. BSIC have more than 330 hectares of land, 9 km of coastline, nearly 6 km of wharf length, two shipbuilding dry docks (500,000 dwt and 300,000 dwt each), two ship-repairing dry docks (300,000 dwt and 150,000 dwt each), one floating dock for ship-repairing (100,000 dwt), and fantastic equipment and facilities (including 4 sets of 600 ton gantry crane, one set of 350 ton gantry and one set of 200 ton gantry crane).
The annual production capability is as follows: 2,000,000 dwt of shipbuilding ( 4,680,000 dwt in future ), 200 million US Dollars of ship-repairing turnover, 4 sets of offshore platforms, and 500 lifeboats. The BSIC will mainly undertake various shipbuilding projects of commercial vessels and offshore engineering projects (including various triangle beam structures, drilling platforms and FPSO, etc.), such as various tankers, container ships, and large sized bulk cargo vessels to name a few.
With first-rate design and research from the Institute of Ship and Offshore Engineering, the BSIC has a very strong capability for scientific research and development and the technology, combined with the existing wealth of information available, is advanced. Also with a reliable guarantee system of quality and safety, the BSIC will supply high quality services to all ship owners at home and abroad and will make every endeavour to be one of the first rate enterprises of shipbuilding and ship-repairing industry, under a principle of "the customer and quality first".
Facilities:
Docks & Repair
Berth Sizes:
Floating Dock – 250m x 45m
No.1 Graving Dock – 360m x 78m
No.2 Graving Dock – 325m x 58m
East Berth – 880m
West Berth – 880m
North Berth – 148m
South Berth – 774m
For more information: www.bhshipyard.com.cn