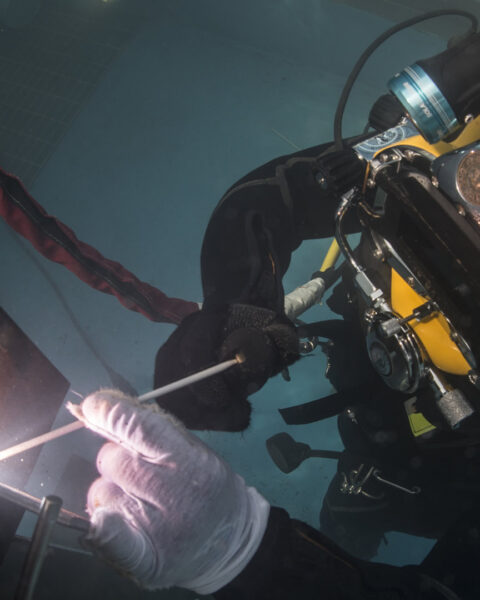 Ship Repairs and Underwater Maintenance
Representing some of the best dry docks and service providers globally, we work with fully accredited providers of underwater maintenance, ship repair and support services.
Well respected in the marine industry, Calvey Marine place you in the best position to maintain your vessels, specialising in ship repairs and underwater maintenance, ensuring they stay at sea, earning and operating. This saves our Clients time, money and stress in the long run, ensuring that health and safety standards are met and efficiency is improved.
We also operate a 24/7 policy meaning we are best placed to support with any emergency should unexpected issues arise and have been successfully assisting our Clients to maintain and repair their vessels for over 30 years.
The range of underwater services we connect you with is extensive and is available to commercial, offshore and naval ships.
Underwater maintenance is the best option for issues that may arise with:
Hulls
Propellers
Ship plating
Locations
No matter where your ships may be in the world, we cater to your needs and offer solutions for underwater maintenance and repairs.
Key Underwater Services
You will benefit from leading and extensive marine services that are bespoke to your needs at the world-renowned shipyards we represent or at your chosen location. From cleaning, polishing, inspections and repairs, we ensure your project is managed to an agreeable time scale and that every element is completed to a premium quality. Calvey Marine are delighted to represent SeaTec which provide our Clients with a 360 degree approach to ship repair and underwater maintenance.
Hull Cleaning & Plate Repairs
We're at the forefront of new generation hull cleaning and are active in the development of successful methods to clean the lowest surface energy coatings. Hull cleaning is vitally important to a vessel to maintain the watertight body and improve efficiency.
Clean hulls are streamlined, making your vessel more fuel efficient and this reduces running costs on the water. The most common repair to hulls is the process of cutting and replacing the permanent insert plates through welding; this is done whilst the ship is afloat for minimal disruption.
Propeller Super Polishing
Propeller polishing is an excellent service which reduces surface roughness and makes propellers inhospitable to marine life, such as crustaceans. We regularly recommend this to clients as the cost of an underwater polish is far below the fuel savings it achieves.
As the quality of the polish will be your main concern to achieve longevity, we work with providers who have developed a propeller polishing tool with an industry standard surface finish of 0.5u Ra, guaranteeing you results.
Afloat Propeller Repairs
When propeller damage occurs, it needs to be dealt with quickly and with technically sophisticated solutions that also fix associated performance problems. The repair teams at our associated shipyards are fully trained and use specialist equipment and techniques to correct damage, which is then quality checked and tested before delivery.
Afloat propeller repairs allow your ship to be serviced at scheduled stops and results in minimal interruption to journeys.
Underwater Painting & Adhesive Application
If your vessel requires adhesive work, has a corroded protective coat of paint, rust or excess oxidisation, then it will need underwater painting and maintenance. This process should be scheduled for your next docking to prevent the issues progressing and requiring more work.
Our associated specialists have over 30 years experience and use proven and established techniques that cause little to no disruption whilst fixing the long term effects of the ocean's climate on your subsea section.
Water Surveys & Inspections
With major classification approval, our providers ensure that their equipment is optimised to match the prevailing underwater conditions by using CCTV and high resolution cameras that are sensitive to low light levels. They also have the ability to include CAD generated drawings.