Seawork 2022
Calvey Marine's visit to exhibition: Seawork 2022, Southampton
Last week members of the Calvey Marine Ltd team attended Southampton's Seawork 2022 exhibition. It was the first time since the pandemic that this prestigious exhibition has been able to go ahead and this year's event certainly did not disappoint. Seawork is the leading European commercial marine exhibition held at Mayflower Park in Southampton, UK. Now in its 23rd year, Seawork 2022 offered a unique combination of undercover exhibition space, open air demonstrations and floating displays. Whilst restrictions have largely been lifted in the UK for some time now and the Calvey Team have travelled to the likes of Nor-Shipping exhibition earlier this year, the chance to visit an exceptional selection of the maritime industry's leading supporting companies on home turf was a real pleasure. One would be hard placed not to feel a sense of pride, walking around the 600+ exhibitors, to be a part of the maritime industry at this time surrounded by companies with a common goal: to connect, share experiences, and provide support to the backbone of the shipping sector by using human interaction, something we have all surely missed. Here's to our industry friends – old and new!
The Purpose of an Agent in 2022
Calvey Marine Ltd. has been at the forefront of the shiprepair, maintenance
and procurement industry for over 30 years, assisting shipowners/
managers with projects ranging from routine drydockings and
conversions, to maintenance throughout the lifespan of vessels, equipment
provision and emergency repairs. As sole UK agents for some of the most
prestigious shipyards including Drydocks World (Dubai), Lisnave (Portugal)
and the PaxOcean Group (Singapore and Indonesia), it also partners with
leading suppliers and marine equipment specialists such as AMI Heat
Exchangers, Greens Power and Seatec Subsea.
Calvey Marine's aim is to offer one point of contact to its Clients
for global shiprepair and maintenance solutions, often offering an
organigram of comparative options, and to provide solutions to each vessels' needs throughout their lifespan. Long gone are the days of rushing to collect a specification from shipowners/managers to be the first agent to send to its relevant Principal shipyards and rightly so.
"We have greatly evolved our role since then. Technology has made the world smaller and more accessible – where once we were the only UK specialists in certain far-afield regions, now a simple online search shows the capabilities of a shipyard and logistical necessities. Has this meant the beginning of the end of the agency network? Certainly not! It means that we have had to re-organise and use this technology to provide our Clients with a more comprehensive and extensive service. This has not been without its growing pains, and evolution has had to be proactive – a conscious and carefully considered effort to ascertain the best direction for this niche but crucial part of the maritime industry."
As shiprepair agents, Calvey Marine closely monitors the projects ensuring they are completed to the highest possible standards and at the most competitive cost and timescale, giving clients access to 24/7 services. Building and maintaining long lasting relationships is at the heart of Calvey's business, and over the last 30 years we have built up a strong network of trusted global partners, and much valued Clients made up of shipowners/managers. The team use a collaborative approach between Principal and Client to negotiate all aspects of the project on the Client's behalf, from initial tender to ensuring Client satisfaction throughout the project. Calvey's team has excellent and well-established relationships with the shipyards and suppliers they represent, meaning it can negotiate the most competitive tenders for shipowners/managers. It also has access to the most up-to-date information regarding drydock availability and work very closely with the yards' commercial departments to best accommodate clients' vessels by securing the required drydock space, and ensuring any vessel maintenance, engineering projects or equipment is delivered in line with the Client's requirements.
Over the past 30 years Calvey Marine has witnessed many changes within the maritime industry and has recognised the need for constant evolution – be it through expanding its product range, working with shipyards to expand their capabilities, or discussing potential areas for development to ensure its Clients' are ahead of IMO regulations. In 2015 Calvey Marine became sole UK agents for Korean based global eco-friendly and energy system expert, PanAsia. Offering its Clients environmental solutions was an important step forward for Calvey including BWM systems, scrubber systems, and soon, industry-leading carbon-capture solutions. Clients come to Calvey Marine knowing that they will be given honest, professional and efficient solutions, offering considerable time and cost savings. Working with its Principals to offer UK shipowners/managers unparalleled equipment, project management, services, and the latest technology, is crucial to minimise downtime and unnecessary costs, which is all enhanced by forward planning. Calvey are there every step of the way – and often a step ahead!)
Despite a recent decrease in ability to visit Clients' face-to-face, Calvey Marine has taken a proactive approach to maintaining hard-earned relationships by teaming up with GOWI Consulting to present regular webinars for Clients and Principals. The sessions are well attended and aim to inform how best to maximise both business and personal potential, which has never been more relevant in this ever-changing world. A 'sales free' environment with all members aiming to accomplish this goal for their teams is a refreshing reminder of the intimate and close-knit climate, which exists within the maritime industry and certainly one that Calvey Marine is very proud to be a part of.
"For me the marine industry must be one of the most engaging and rewarding sectors to work in. The opportunity to constantly be challenged and to learn throughout my career, to travel the world and to build long lasting relationships with our clients and principals is a true privilege. Having a real passion for the industry means that we can approach every interaction with enthusiasm, determination and genuine interest"

Spokesperson for Calvey
Calvey Marine's role as an agent in the maritime industry remains a pivotal and ever-evolving one, as recognised by the Federation of Small Businesses in March of this year.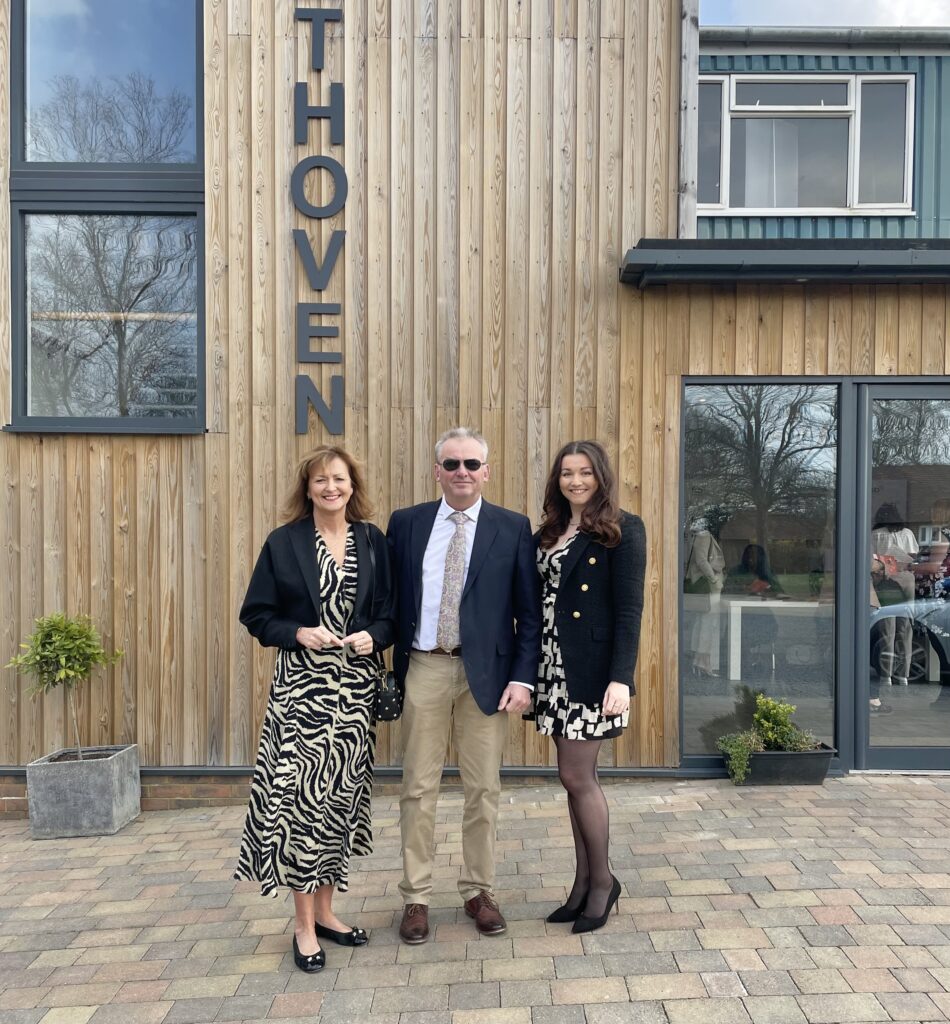 Green's Power News
"Supporting our UK based ship owners and managers with global boiler and economiser services strengthens our offering to Clients of full rounded ship repair and maintenance support during their vessels' life cycle. We have represented Green's Power for many years and continue to be impressed with their exceptional attention to detail, customer service, and extensive industry knowledge".

Calvey Marine, Green's Power's UK agent
Global Specialists in Marine Boiler and Economisers
Industry Leaders
Following the merger of Green's Power and Thornhill Heat Exchangers, the Heat Exchange Group is the leading UK and worldwide supplier of industrial/marine boiler and economiser products and services, continuing to encourage Green's Power's rise from strength to strength in supporting vessels globally. During the Pandemic and beyond, Green's continues to proudly boast ongoing investment in people and machinery.
With a design and manufacture centre in Wakefield and Service Centre in Prudhoe, Green's Power supply spare parts for all makes and models of boiler/burner and are available to assist 24/7 for boiler service and repair with teams based in UK, Europe and Asia. As well as service and repair, Green's design and manufacture economisers, waste heat boilers, superheaters and other pressure parts.
Per Christensen recently joined UK's Heat Exchange Group as Technical Consultant based in Dubai, further expanding Green's reach and ability to support their Clients globally. Per has over 40 years of experience in the boiler industry associated with manufacture, repairs, upgrades and maintenance. He has worked for companies such as Alfa Laval, International Combustion Engineering and for the previous 25 years with Harris Pye Engineering in Dubai.
Green's service and repair teams are fully COVID-19 vaccinated and can attend vessels all over the world; global reach and flexibility are crucial during the ever evolving maritime industry and it is these qualities which maintain Green's place at the top of their sector.
2021 Seaplant Advert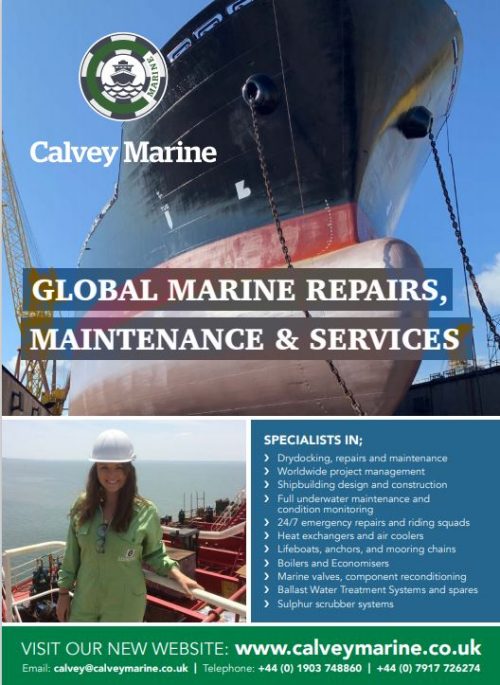 Calvey Marine are pleased to release their 2021 Seaplant advert, featuring Steven and Jessica's last visit to Lisnave Shipyard, Setubal.
Calvey Marine strive for any opportunity to promote our exceptional worldwide Principals, offering the very best support to our Clients.

Seaplant is an international marine trade magazine and website providing the offshore oil, marine construction and shipping industries with a dedicated worldwide audience for buying, selling and hiring equipment services and vessels. The magazine lands on the desks of 6500 marine companies each month, and 1/4 million businesses worldwide use Seaplant to find, buy and sell. Throughout the world, in print or online, Seaplant Exchange is the first port of call for marine traders.

We are proud to represent our services in such a prestigious publication and are excited for the opportunity to continue evolving our exhaustive and proactive marketing strategies this year, including our 2021 Seaplant advert.


Calvey Marine Ltd. Re-brand
Despite being unable to do much with the exception of work (for which we are very grateful!), time seems to be moving forwards very quickly; it is with great excitement that we find ourselves writing in the beginning of April 2021 to announce the launch of our new Calvey Marine Website.
On behalf of the Calvey Marine team we would like to take this opportunity to thank our Clients and Principals alike for your ongoing support, as we look to the future and the ever evolving industry of ship repair. We would be delighted to discuss any ongoing or future requirements that you may have in due course, and would welcome the opportunity to provide you with competitive and prompt support. Onwards with Optimism!