Green's Power News
"Supporting our UK based ship owners and managers with global boiler and economiser services strengthens our offering to Clients of full rounded ship repair and maintenance support during their vessels' life cycle. We have represented Green's Power for many years and continue to be impressed with their exceptional attention to detail, customer service, and extensive industry knowledge".

Calvey Marine, Green's Power's UK agent
Global Specialists in Marine Boiler and Economisers
Industry Leaders
Following the merger of Green's Power and Thornhill Heat Exchangers, the Heat Exchange Group is the leading UK and worldwide supplier of industrial/marine boiler and economiser products and services, continuing to encourage Green's Power's rise from strength to strength in supporting vessels globally. During the Pandemic and beyond, Green's continues to proudly boast ongoing investment in people and machinery.
With a design and manufacture centre in Wakefield and Service Centre in Prudhoe, Green's Power supply spare parts for all makes and models of boiler/burner and are available to assist 24/7 for boiler service and repair with teams based in UK, Europe and Asia. As well as service and repair, Green's design and manufacture economisers, waste heat boilers, superheaters and other pressure parts.
Per Christensen recently joined UK's Heat Exchange Group as Technical Consultant based in Dubai, further expanding Green's reach and ability to support their Clients globally. Per has over 40 years of experience in the boiler industry associated with manufacture, repairs, upgrades and maintenance. He has worked for companies such as Alfa Laval, International Combustion Engineering and for the previous 25 years with Harris Pye Engineering in Dubai.
Green's service and repair teams are fully COVID-19 vaccinated and can attend vessels all over the world; global reach and flexibility are crucial during the ever evolving maritime industry and it is these qualities which maintain Green's place at the top of their sector.
Calvey Marine Ltd; Best Global Ship Repair Agents & Marine Supplies Award Winner 2021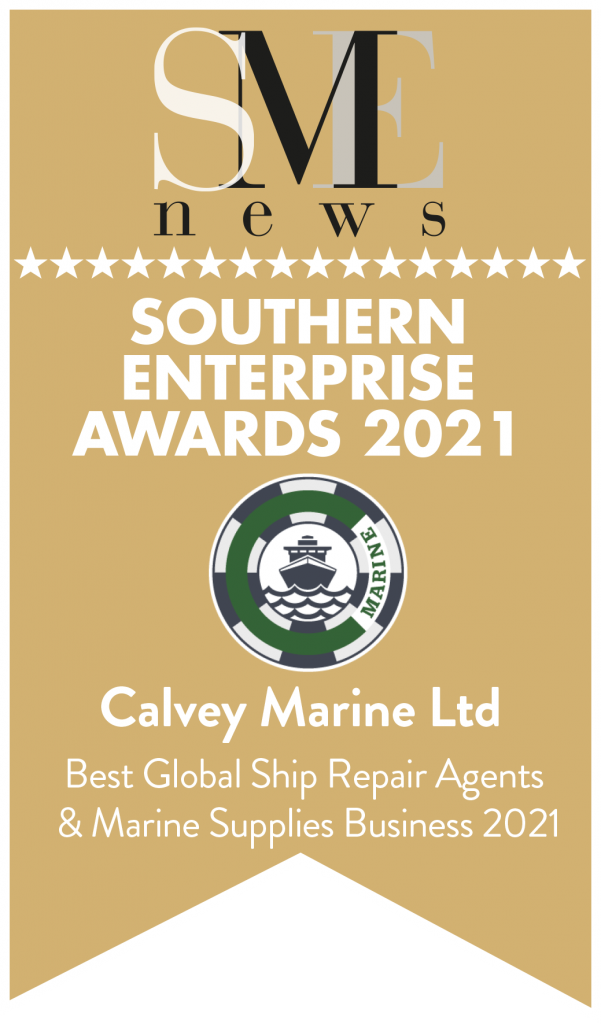 Calvey Marine are delighted to announce that they have been awarded the prestigious Southern Enterprise Award for Best Global Ship Repair Agents & Marine Supplies Business Award Winner 2021, hosted by SME News. The panel of judges' highly anticipated decision was met with great gratitude and pride from Calvey Marine, especially considering such a hugely challenging period over the last 18 months, and is met with great excitement as this coincides with the company's 30th anniversary this year.
Below is an exert from their written submission, discussing Calvey's core values, ambitions for the future, and role within the community.
Based in the heart of West Sussex, Calvey Marine Limited are global ship repair agents and this year celebrate their 30th their in industry. You would be easily mistaken to assume that this is a large corporate company, but in truth this small, family run business has a lot of heart. Family values, exceptional customer service, professionalism and a lot of hard work are at the forefront of Calvey's ethos, and they are exceptionally proud to be at the forefront of the ship repair and marine industry. Pastoral care and philanthropic activity separate Calvey Marine from their competitors. They measure success not just by their realised and ongoing growth, but moral obligation to make the industry and the lives of those they interact with, better than they found it.
Building strong and lasting relationships are key to Calvey Marine's business and reputation is their everything. Calvey are immensely proud to support the global maritime industry and keep shipping afloat despite the challenges the industry faces. Over the last 12 months Calvey Marine has taken a proactive approach to maintaining these hard-earned relationships and has teamed up with GOWI Consulting to present regular webinars. The 45 minute sessions are aimed to inform those in the maritime industry of the changing world we all find ourselves in, and how best to maximise both business and personal potential. Topics have included; how to best manage stress, isolation, anxiety and addressing some of the challenges that working remotely presents. These have received glowing feedback and high numbers of attendees. For businesses, pastoral care has never been more important and if successfully managed can not only assist the wellbeing of staff but also maximise the existing commercial opportunities available. A 'sales free' environment with all members aiming to accomplish this goal for their teams was a refreshing reminder of the intimate and close-knit climate that still exists within the maritime industry and certainly one that Calvey Marine is very proud to be a part of.
Calvey Marine have gone from strength to strength despite the pandemic and continue to grow their revenue by providing exceptional support and service to their clients. Expansion is on the horizon, with recently appointed Business Development Director Jessica on the hunt for the right candidate to join our team in 2022. The difficulty with business development over the last 18 months has been a lack of being able to visit shipyards worldwide to manage projects in person and to build repour with new clients and maintain strong bonds with existing clients without being able to meet and market face to face. Strong communication skills have been key to Calvey's operations both within their company and also to their clients and principals. Despite challenges, Calvey are optimistic about their expansion plans and have recently been asked to represent their Principals' services further afield in Europe. Calvey Marine are experiencing a record year so far, reflected in their exceptional support to their Clients and successful marketing on behalf of  their Principals.  
Not satisfied with just expanding their business activity, Calvey Marine also measure their success by increasing philanthropic activities and supporting the local community. They regularly support local charities alongside Great Ormond Street which is a charity close to their hearts. This year Calvey have decided to support local mental health charities as are aware how many young people in West Sussex are currently awaiting support. As family is at the heart of Calvey Marine Ltd, looking after the wellbeing of their own during the pandemic has been an essential and more personal focus. Honest and open communication, flexibility, understanding and compassion have never been more key, and Calvey Marine have focused on their own pastoral care greatly over the last year.
The Calvey Marine team hope that this award and recognition marks the start of a less turbulent time over their next 30 years, as the country continues to adapt to the current 'new normal'. As ever Calvey have their valued Clients and Principals to thank for their success, due to their continued support, loyalty and close cooperation over the last thirty years.
We look forward to the next thirty with optimism!
'Leading and Emerging Stronger from the Pandemic'
On 7th May Calvey Marine are excited to host their fourth Webinar presented by business consultants, GOWI. Whilst previously seminar invitations have only extended to our Clients and Principals, we are now delighted to be able to extend this invitation to those in our Linkedin network (and extended network community!) in a continued effort to support the marine industry. The upcoming seminar will be entitled ''Leading and Emerging Stronger from the Pandemic'' and will discuss leadership traits and behaviours needed for the next phase in the pandemic, and how our businesses will need to focus on communication, culture and care in order to maximise the opportunity we currently have to accelerate some of the changes you might want to see in your organisations. Whether you are a familiar attendee or a new face to Calvey, please reply 'yes' to this message if you would like to join and I will send the invitation to you in due course.
Please get sharing to your colleagues / friends within the industry, we hope to host a productive and informative session to as many of you as possible at ''Leading and Emerging Stronger from the Pandemic''! For more details, email us at calvey@calveymarine.co.uk.
We hope to see you there.