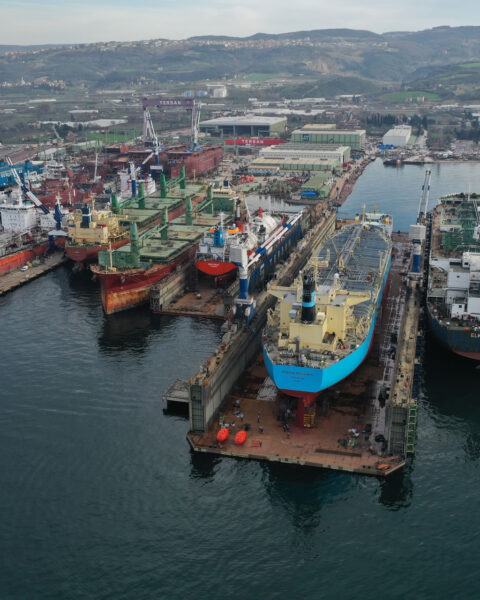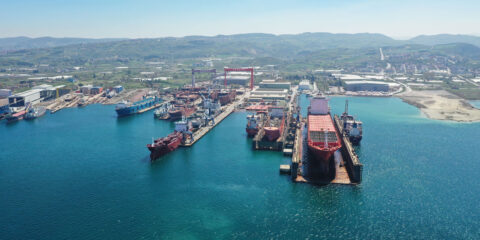 Tersan shipyard
Turkey

Tersan shipyard – Turkey
Tersan Shipyard Inc. belongs to the "Tersan" group of companies providing services in four maritime sectors:
New ship building,
Ship repair, docking & conversion,
Ship owning & operation
Ship agency services
In recent years, the Tersan Group have become leaders in the maritime industry for Turkey, known for enthusiasm and reliability, and its sustained success is achieved by experienced human resources, modern facilities, customer support and reliability guiding the company to gain unique and challenging big orders.
Tersan's new building premises in Yalova is today, one of the biggest, most modern and efficiently organized shipyards in Europe. Besides the initial investment, the development of the yard is going on continuously meeting upcoming technologies and projects. The yard is employing about 500 permanent personnel where the total number of workforce reaches up to 2000 depending on the workload of the projects. Ensuring high quality and punctual delivery times lead Tersan to focus for the orders of more specialized vessels. The company is now happy to see steadily increasing orders in their order book for challenging new building projects including offshore supply vessels, fishing vessels, ferries, stainless steel tankers, tugboats and complex tailor made state-of-the-art new building projects. Their proven experience and good track record is a good sign of the success.
The Tersan vision of success continues with further shipyard expansions by establishing repair divisions Yalova branch in the existing Yalova premises with the two new floating docks and a comprehensive machinery workshop. Tersan's further expansion plan is to invest in southern part of Turkey which will allow them to serve the VLCC market. Tersan works on more than 100 repair projects with its 2 floating docks and repair berths annually
Facilities:
Docks & Repair
Berth Sizes:
Floating Dock No.3 – Length: 284m x Inner Beam: 51m
Floating Dock No.2 – Length: 180m x Inner Beam: 29m
For more information: www.tersanshipyard.com